News
SLF Benefit Event
---
Stay updated on our upcoming Benefit Event for the Philippines this coming December 22 in Danssalon In Casa in Leiden, through this newspage. We truly hope to see you all there to support those affected by typhoon Haiyan!
Latest update TOTAL AMOUNT RAISED! (December 22, 2013):
After a very successful event, we are proud to announce the Sheryl Lynn Foundation raised 30.000 EUROS for the victims of typhoon Haiyan through the efforts of so many amazing people who helped in fundraising, volunteering, performing and many other ways! THANK YOU ALL SO MUCH!!

Latest update TICKETS & FLYER (December 10, 2013):
We are proud to present our flyer & program for the SLF Benefit Event for the Philippines, held in Danssalon In Casa. BIG thank you to Alona van Rosmalen for this beautiful design! This event is in collaboration with Leiden University, where Sheryl Lynn is an Honours student Cultural Anthropology & Development Sociology. Scroll down (below the flyer) for TICKET SALES.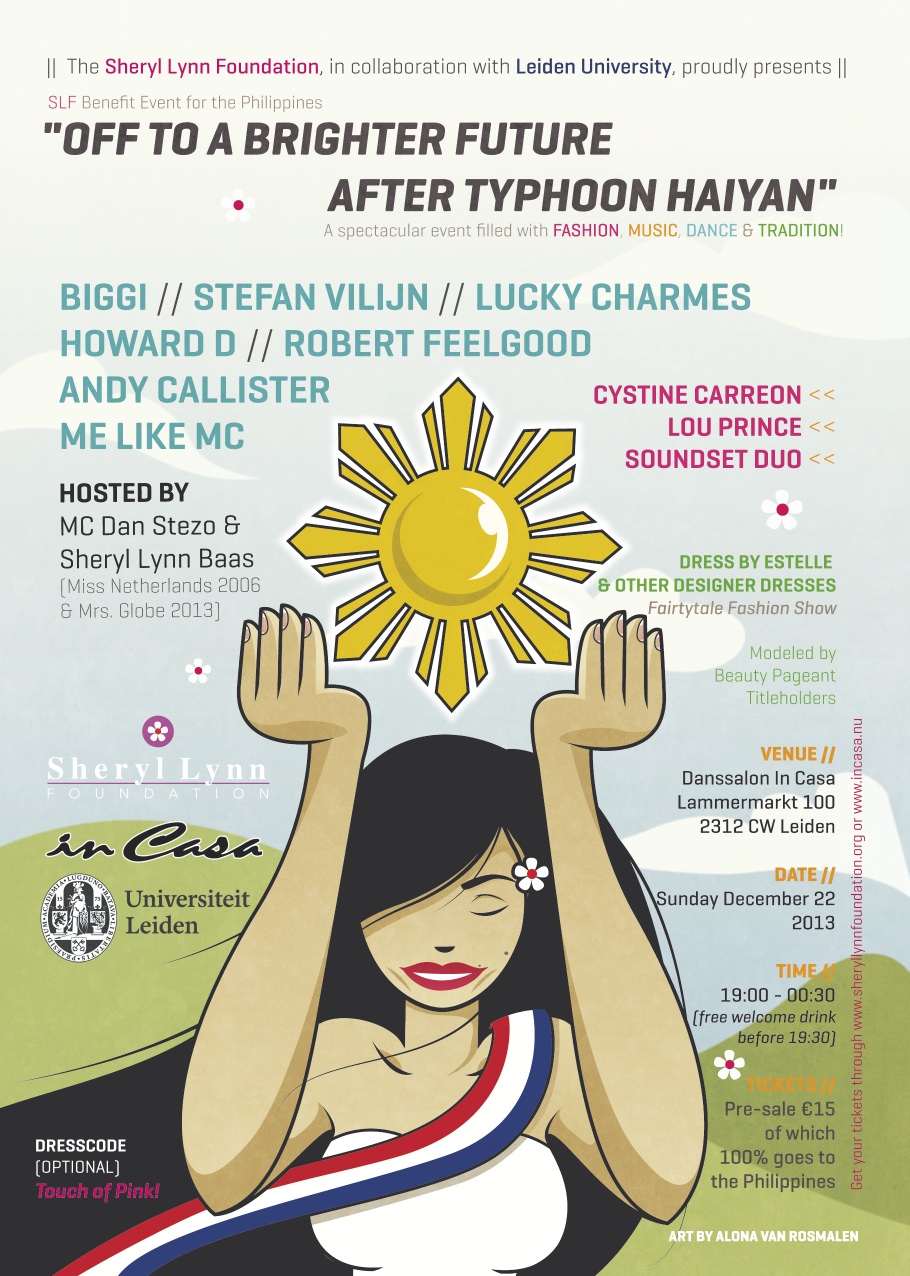 PROGRAM SLF BENEFIT EVENT: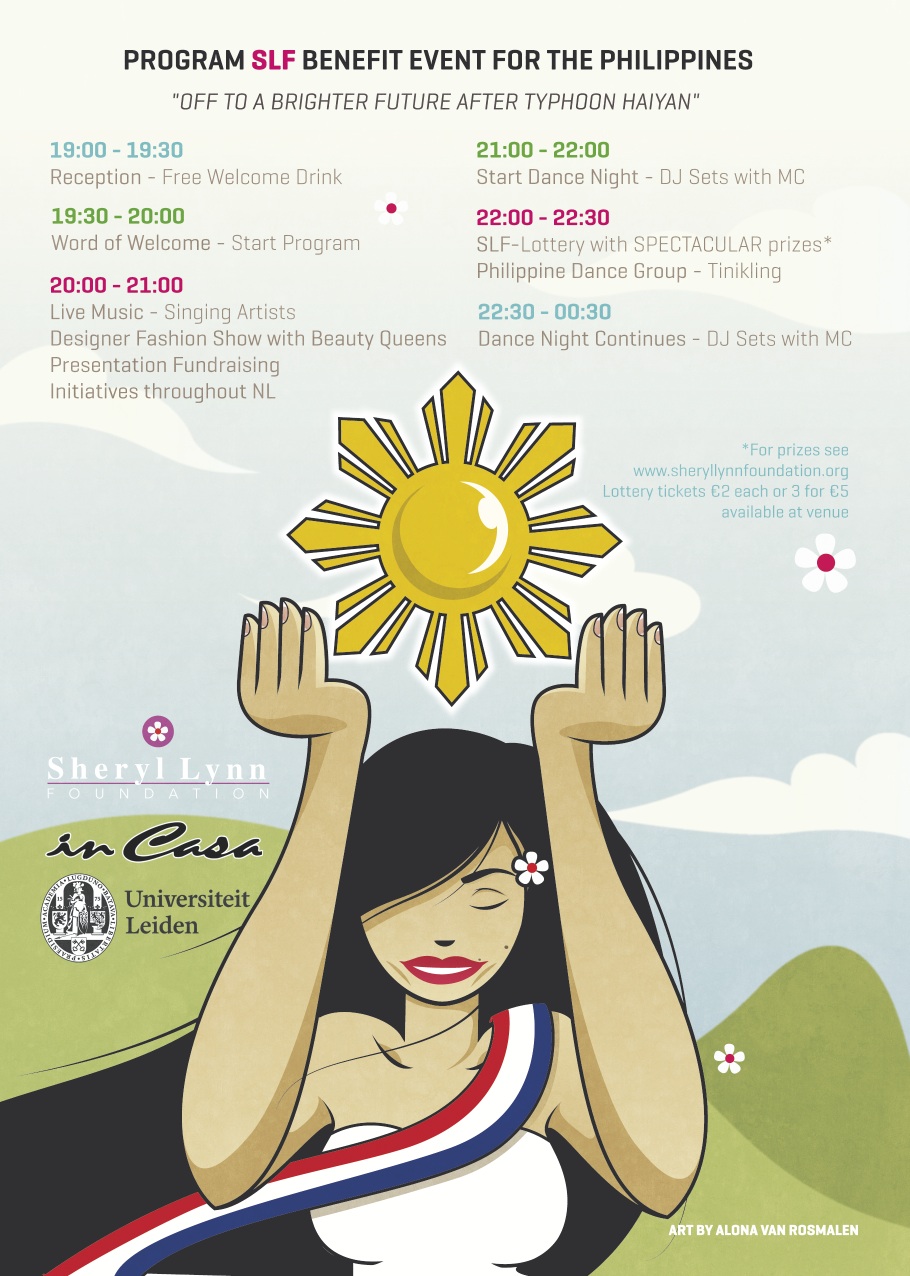 TICKETS SLF BENEFIT EVENT
Pre-sale: €15 of which 100% will go to the Philippines
There are 3 ways to purchase your tickets, please choose the option most comfortable to you:
Go to 'Tickets', select 'Benefietavond voor de Filipijnen' and place your order
At our pre-sale location in Leiden at Leiden University (no fees)
CASH ONLY & EXACT AMOUNT at the SERVICEDESK on the 1st floor:
Leiden University
Pieter de la Court Gebouw                                  
Wassenaarseweg 52                                               
2333 AK Leiden  
Tel: 071 - 527 8989
Opening hours 09:00 - 17:00 (a few days a year the servicedesk closes a bit sooner, so best is to get your tickets before 15:00) Pre-sale here ends Friday December 20th!
By bank transfer to get on the guest list at the entrance (no fees)
Transfer the required amount to our giro 4990 and state the number of tickets, your full name and your birthdate. After we've received your donation, we will place your name on the guestlist (transfers before Dec 19th!). Your ID will be checked at the entrance for verification, after which you will receive your tickets.
------------------------
Second Artist Update (December 10, 2013)
We are extremely proud & grateful to announce that during our event we may hear the beautiful voices of:
Soundset Duo
And extraordinary designer dresses will be showcased at our fairytale fashion show from:
We have the privilege that Sheryl Lynn will host the night with MC Dan Stezo!
-----
Artist & Venue Update (December 8, 2013):
Our fabulous DJ line-up, wonderful artists who are supporting our cause:
Besides the support of Leiden University, we now have the support of Danssalon In Casa in Leiden, which will be the beautiful location for our evening. We are very grateful to owner Leo Kamphues and look forward to a spectacular event!
Tickets are €15 and will be available as of Tuesday December 10, through our sales point in Leiden (University), online through www.incasa.nu (PayLogic admin fee) or you can pick up your tickets at the door after payment through our GIRO 4990 > Please state your name, date of birth and "TICKET(S)" in the description of your bank transfer.
MORE DETAILS WILL FOLLOW SOON!
-----
Save the date (December 3, 2012):
Kindly we would like to ask you to save the date Sunday December 22nd in your agenda's for the Benefit Event of the Sheryl Lynn Foundation. It promises to be a spectacular evening, for which we are currently busy preparing. A glimpse of the night: fantastic fashion show, beautiful singing performances, SLF-lottery with unbelievable prizes and fabulous DJ's & MC's! And a personal highlight: several heroes from throughout the country, young and old, who started their own fundraising initiatives, will be in the spotlight too.
This event is in collaboration with Leiden University and will therefore be held in Leiden from ca. 19:00 to 00:30 hrs. An official invitation and flyer will soon follow, with exact details on time, location and program.
Lastly and most importantly: 100% of the funds raised will go to the Philippines to help the victims of typhoon Haiyan. Our purpose is clear and we hope you will join in on it!
Can't come? We can use all the help we can get in promoting the event, so hopefully you will all pass it on once the flyer is out; save the date, spread the date!
Thank you sincerely and we hope to have the privilege to greet many of you on December 22nd.
---