News
Sheryl Lynn wins ECHO Award 2014
---
On Friday April 11th the ECHO jury, comprising of prominent directors from Shell, KPMG, NS and NOS, appointed Sheryl Lynn as the winner of the ECHO Award 2014 at University Level (Wetenschappelijk Onderwijs), for her societal contributions.
The ECHO Award is given out to a successful student from a migrant background, who distinguishes him- or herself in excellent study results, groundbreaking mentality, entrepreneurship, active social engagement and leadership (quoted from jury report). 'Sheryl's determination and the conscious path she has taken to combine her talents to use the outcome for a greater purpose convinced the jury that she is a worthy winner for the ECHO Award.' (Photo by EN Photography)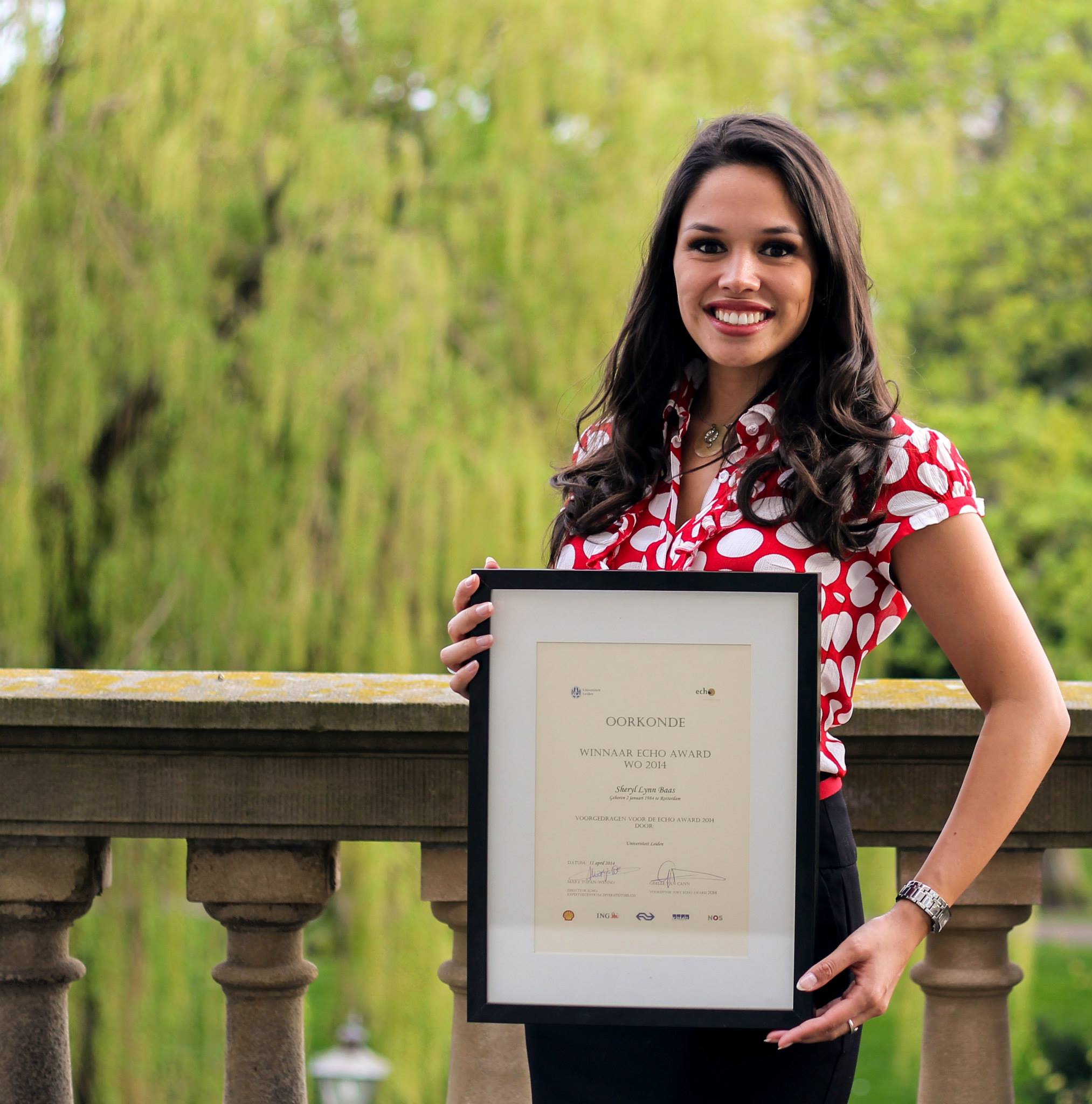 Sheryl Lynn is currently busy graduating for her Bachelor's Degree in Cultural Anthropology and Development Sociology, a study she chose as an investment for the Sheryl Lynn Foundation and her life goal to make a meaningful difference in this world. She is specialized in Environment & Development in the region of South-East Asia, the Philippines in particular. After obtaining her first year's Propedeutic Diploma with distinction (Cum Laude), she continued her second and third year doing fieldwork in the Philippine provinces Leyte and Isabela.
Leiden University put Sheryl Lynn forward as their sole representative for the ECHO Award, after which the ECHO Foundation nominated her as one of the finalists. She then presented herself in front of the ECHO jury and passionately told them about her goals, vision & aspirations. 'I consciously integrated three elements in my life: using the popularity I gained from the beauty pageants as a voice, investing in my education to expand my knowledge and setting up my foundation to build an infrastructure in the Philippines.'
Winning the ECHO Award provides Sheryl with a summer scholarship at UCLA, the University of California in Los Angeles. There she will take up courses that can further improve her academic knowledge and expand her professional network to strengthen her work in philantropy. Read more about this triumph in this news article of Leiden University. Or read the full jury report (in Dutch). Furthermore, a newspaper article appeared in Leidsch Dagblad, also found on our articles page.
More info on ECHO (taken from www.echo-net.nl):
ECHO is a national center of expertise working on the implementation and execution of diversity policies of educational offices, government offices and corporate businesses through training, consulting and project management. The ECHO Foundation is a project by ECHO that wants to create opportunities for talent development and social activities in relation to education and to the labour market. Since its launch in 2006 the ECHO Foundation has gradually received recognition as a national initiative that binds outstanding migrant students and young professionals. They combine the successful completion of their studies with an active social engagement. 

The ECHO Foundation provides the opportunity to generate a critical mass of excelling migrant talent from higher education. This in order to prepare society for a new, enriched generation of potential presidents, politicians and captains of industry. The main objective of the ECHO Foundation is to structurally enhance the breeding ground of excelling talents of ethnic minorities through the ECHO Award, the ECHO Ambassador Network and ECHO Foundation scholarships
---